Looking for a delicious and healthy pizza crust recipe?
Look no further than this almond flour pizza crust! Made with just a few simple ingredients, this crust is gluten-free, grain-free, and Keto-friendly.
Plus, it's super easy to make – just mix everything together and press it into a pan.
You'll have a perfectly crispy, thin crust in no time!
If you love homemade pizzas then you should definitely know how to make almond flour pizza crusts.
ALMOND FLOUR PIZZA CRUST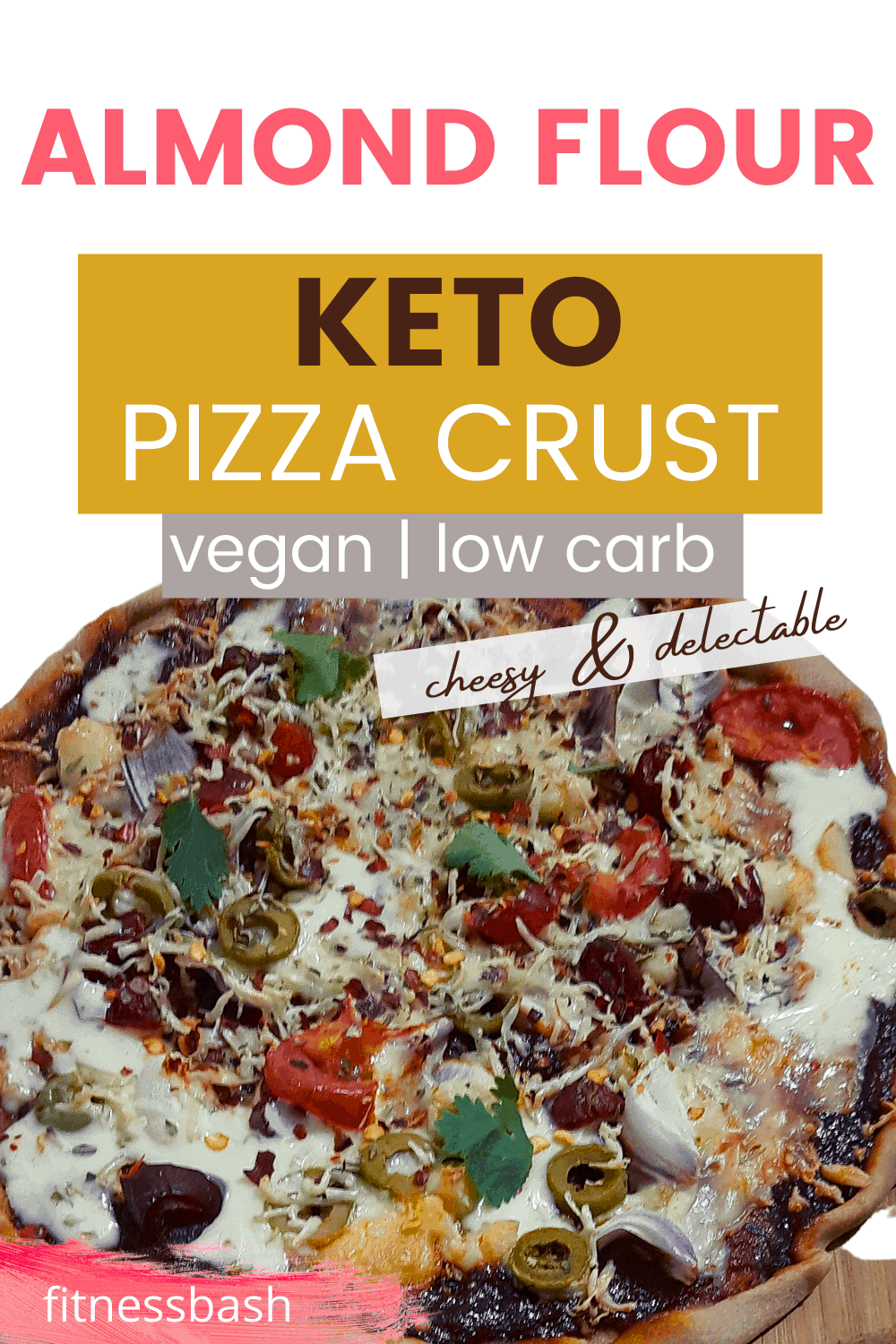 Being a cosmopolitan girl made me love my pizza even more. And I've always been very particular about the perfect pizza crust and more cheese.
Gradually, I started to learn how substandard the effect it has on our health is.
Refined flour is a very refined carb that is nutrient deficient, has no fiber, and slows down metabolism which creates fatigue, constipation, fatigue, and weight gain.
This almond flour pizza base vegan recipe is a quick and easy one and fulfills my pizza cravings without any flour.
What is a keto pizza crust made of?
A keto pizza crust is made up of very few simple ingredients. The main motive is to eliminate carbs with other nutrients.
Keto pizza crust has very few ingredients like almond flour, dried herbs, oil, milk, and a little salt.
Can you use almond flour on Keto?
If you're on keto, almond flour will be on top of your pantry list as it's a very ketogenic staple for baking. It is low-carb, high in fat, moderate in protein, and has great flavor and texture.
It has got everything that ketogenic food should have and shouldn't have.
How many carbs are in almond flour?
Almond flour is rich in nutrients. One ounce (28 grams) contains :
Calories: 163
Fat: 14.2 grams (9 of which are monounsaturated)
Protein: 6.1 grams
Carbs: 5.6 grams
Dietary fiber: 3 grams
Vitamin E: 35% of the RDI
Manganese: 31% of the RDI
Magnesium: 19% of the RDI
Copper is 16% of the RDI
Phosphorus 13% of the RDI
Almond flour is particularly rich in vitamin E, a group of fat-soluble compounds that act as antioxidants in your body.
Does almond flour rise like flour?
No, almond flour doesn't rise like flour. Almond flour bakes are a bit denser compared to all-purpose flour.
The reason is – the carbon dioxide (CO2) that comes from the metabolism of the carbohydrates( present in the flour) from the yeast makes the bread rise and in the case of almond flour, the carbs are negligible.
Baking soda and baking powder also leavening agents, do not emulate the same feeding process.
Is almond flour or coconut flour better for keto?
Both almond flour and coconut flour are ketogenic flour. You can use them to make keto-baked foods.
Both of them are low in carbs and rich in fiber.
Coconut flour has 2 net carbs per ¼ cup whereas almond flour has 3 net carbs per ¼ cup.
Does Almond Flour get crispy?
It's very important to pre-bake the pizza crust in the oven for 3-4 minutes before putting anything on the crust.
This will prohibit the moisture on the above crust to get inside it making your crust more crispy.
Also, apply a very thin layer of sauce on top.
Here is the keto tomato sauce that can do the trick.
You can also add a layer of alfredo sauce to make it a creamier pizza.
INGREDIENTS
Almond flour (superfine) -1 cup

Baking powder- 1 tablespoon
Oil- 1 teaspoon
Milk- ½ cup (to make the dough, you may adjust the quantity here)
Salt- to taste (Just 1/2 tsp is fine)
Dried herbs- to season
DIRECTIONS
Take the almond flour into a clean vessel. Add all the dry ingredients and give it a mix.

Now add the oil and mix it with all the ingredients with your hands.

Add the milk now, and knead for ten minutes to get the perfect dough for your almond flour pizza crust without eggs.
Cook it for 5 minutes on a gas stove.
Your pizza crust is ready.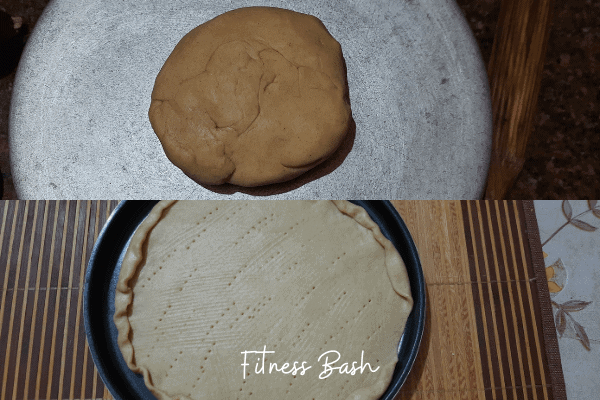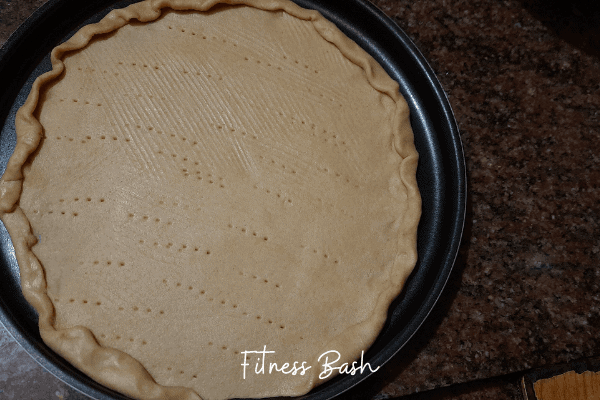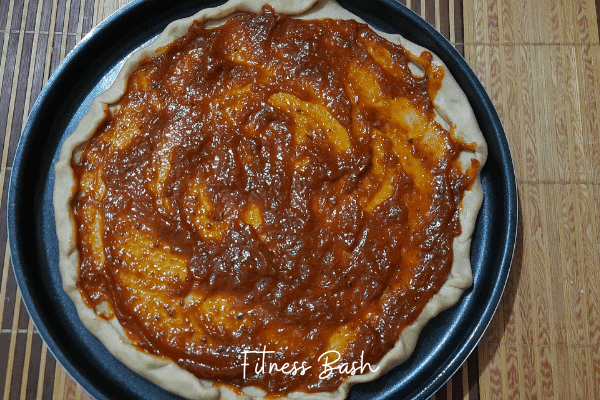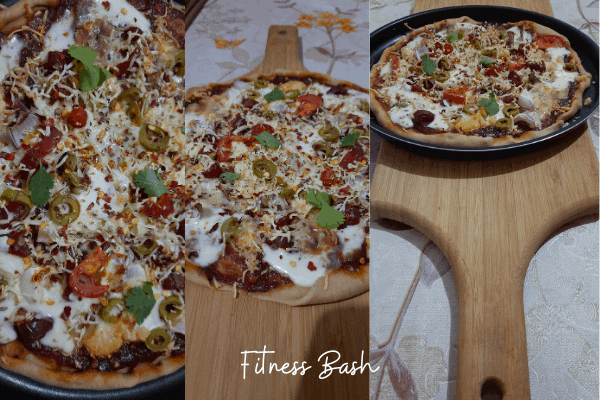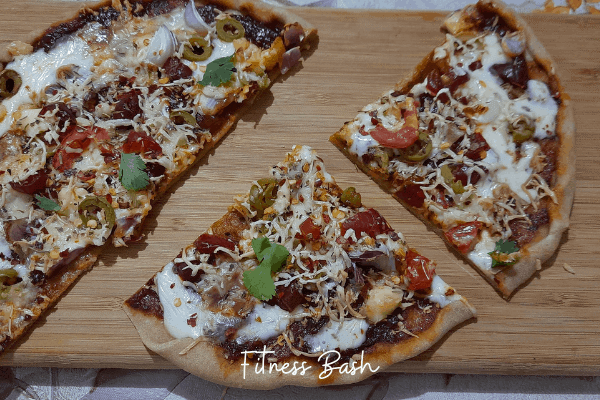 Nutrition is calculated from Nutrition Calculator.
My Take on Almond Flour Pizza Crust
My keto almond flour pizza crust is naturally low in carbohydrates, high in fiber, and gluten-free. And believe me or not – it's delicious!
I don't let my soul starve from not eating pizza just because I am on a ketogenic diet. I eat pizza when I crave one.
This almond flour pizza crust is something that is different and yet a very know flavor to me.
The pizza crust is thin and easy to digest, also since it's low in carbs it breaks down easily.
You can have any topping of your choice and a generous amount of cheese to fulfill your pizza desire.
Almond Flour Pizza Crust